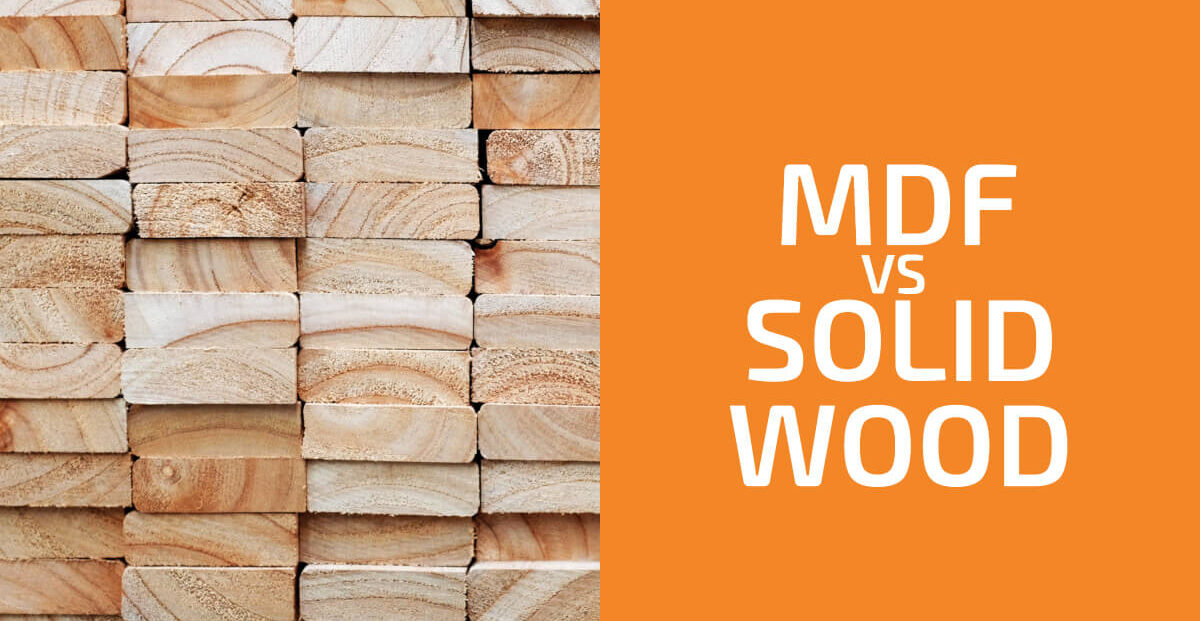 Wood Solid vs. MDF-Which One is a Better Choice?
Solid wood, even the name sounds reliable. Many homeowners prefer solid wood for their kitchen remodeling and MDF (Medium Density Fiberboard) is shunned as it is viewed as cheap and of poor quality. However, both solid wood and MDF have their pros and cons when it comes to home renovation. Solid wood may not necessarily be a superior choice and sometimes MDF can be a better option.
If you too are confused between the two materials, here are a few things to keep in mind when choosing the right kind of material for your home renovation:
Solid Wood
Solid wood refers to natural lumber unlike MDF which is essentially an "engineered wood". Solid wood has been used for furniture for many centuries and thus many trusts this over any other material.
Advantages of Solid Wood
• Durable- Solid wood is sturdy and will last for decades. Solid wood has been used for centuries for putting up buildings. One thing to keep in mind is that different woods have varying levels of strength. Choose the wood according to your need.
• Elegant- If aesthetic is your priority, solid wood is the best choice. The grainy texture of the wood results in beautiful looking furniture. Here, one thing to note is that just like the different durability, different woods have different aesthetic qualities.
• Value- For homeowners looking for a better price for their home, solid wood is the better choice. Solid wood has more value than MDF and can boost up the price tag of your home.
Disadvantages of Solid wood
• Not waterproof- Although woods like red oak can withstand moisture, many aren't waterproof. Solid wood has to be protected by applying waterproof finishing to save it from humidity and moisture.
• Cracking- As the temperature increases, solid wood tends to expand and with lower temperature, wood contracts. Thus resulting in cracking or warping with temperature fluctuation.
Medium Density Fiberboard
Medium Density Fiberboard or MDF is made from recycled wood fibers, resin and wax. This is a denser and stronger option than traditional plywood.
MDF is a cheaper but a stronger alternative to solid wood. Many homeowners think MDF performs poorly as compared to solid wood. But just like solid wood, MDF has its good as well as bad points. Let's see what they are:
Why prefer MDF?
MDF is mostly used for cabinet doors and are used for solid wood cabinets as well.
The reasons for this are:
• MDF, unlike solid wood, doesn't warp or crack with the change in temperature. The "engineered wood" board moves as a single unit thus making it favorable for cabinet doors.
• MDF doesn't have a grainy texture, resulting in a smooth finish. If you want a polished look for your cabinet door, use MDF for a better finish.
• MDF boards are water resistant.
• MDF can be easily available in larger sizes for bigger projects and is cheaper than the solid wood.
One disadvantage of MDF is that it tends to get easily scratched. Once scratched it cannot be repaired. MDF isn't resistant to heat and isn't suitable for outdoor furniture.
If you want to upgrade your kitchen, choose custom cabinets with MDF doors. We make Custom Kitchen Cabinets in Brampton and are here to help with your queries if you are still confused with which material to choose.