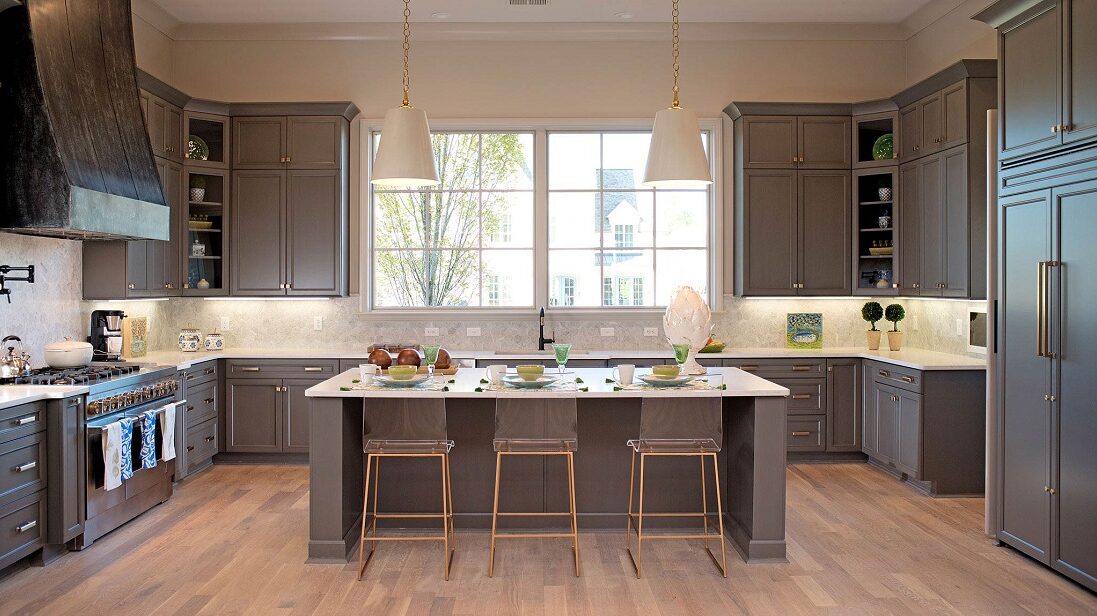 5 types of Kitchen cabinets to remodel your kitchen
There is no denying the fact that kitchen cabinets are the most important features of the kitchen, whether you have a traditional or modern kitchen. They not only help you in terms of its operations but also adds more spark in the overall look of your kitchen space. Making the kitchen look more spacious and refreshing kitchen cabinets can ignite the look of your kitchen and can give your kitchen an entirely new look. However, choosing the perfect design for your kitchen can be backbreaking for you. To help you select the right fit for your kitchen space, below we have mentioned major designs of the cabinets that you can look forward to installing. Let's have a quick look at these mesmerizing kitchen cabinet designs:
Shaker-Style:
Due to its distinctive look, this type of cabinets has engrossed huge recognition in recent times. This type of cabinets usually combines five sections- the vertical portions on the sides, the horizontal ones on top and base, and the recessed section in the center. This look provides a traditional look that can never be off the trend.
Pros:
It is flexible to combine this style with any kind of material.
They are popular and thus are easily available at a reasonable price.
Cons:
It is prone to dirt, so it requires regular cleaning to avoid dirt that tends to get collect in the inset portions.
Beadboard cabinets
This type of design, vertical planks are fixed into each other to provide an in-depth look and texture. This design can also be customized based on symmetrical and asymmetrical designs.
Pros:
It provides a classy and elegant look.
You can customize this design in both symmetrical as well as asymmetrical styles just like kitchen cabinets Mississauga.
Cons:
It requires deep-cleaning as the grooves can very easily accumulate dust particles.
The prices of this cabinet can be differentiated based on the kind of wood which is used to build it.
Glass-front Cabinets
This type of cabinets may not be an obvious choice for the kitchens, but it can be always mixed with variant styles. You can choose a single glass pane with some unique kind of cabinet.
Pros:
This kind of cabinets makes the kitchen look brighter due to the reflection that falls on it. It also looks great to have a flat front glass cabinet.
Cons:
Everything is easily visible within the cabinets, so you must always keep the shelves clean and tidy. Although you can frosted glass to reduce visibility.
If using low quality, there is a high risk of durability.
Flat-Front Cabinets
This type of cabinets is also known as slab doors. They are solids which do not have any specific framing and panels. They provide a minimalist look that matches well with the modern kitchens.
Pros:
It is very easy to customize and clean this type of cabinets.
They are the least expensive because of their simplicity.
Cons:
They look quite simple or blunt, they are trouble-free to paint which makes it more vibrant.
Plywood Cabinets
Earlier wood might not be the first choice for designers to build a cabinet, but now, they are experimenting with wood as it not only has operational benefits but also enhances the appearance of the cabinets. It provides a comfy and cozy environment due to its warmness.
Pros:
They do not get reduced in size or expand, and is extraordinarily long-lasting. A fine finish can beautify the look of the overall cabinet and the kitchen.
Cons:
There are many low-quality plywoods available in the market which can cause the look of the cabinets.
It is suggested to choose high-quality plywood.
Conclusion:
There are a variety of designs and materials available in the market when we talk about the kitchen cabinets. You must choose the right kitchen cabinet for your kitchen which is not only purposeful but is also great for your home. Going through the material's pros and cons have become a necessity in today's era. This is why it is also a good move to seek guidance from professionals just like Singh Kitchen. They provide you with enormous custom kitchen cabinet designs without compromising the quality. Hope this above-mentioned kitchen cabinet helps you choose the perfect fit for your kitchens.