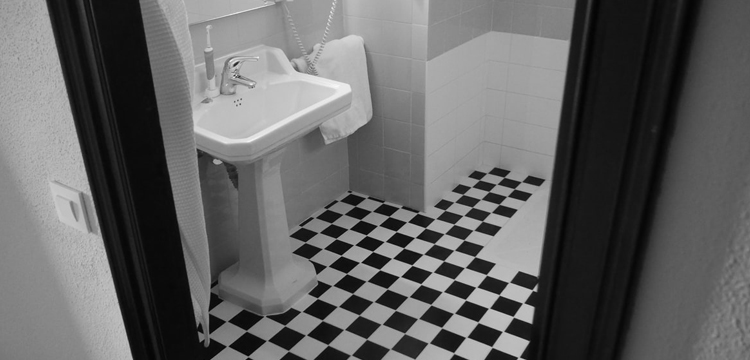 6 most common bathroom floor materials
Whenever someone thinks of remodeling their homes, they think of attractive and durable materials to install which fully complements their home. However, while selecting the best materials for the bathroom, many of us forget to choose those materials which doesn't damage our bathroom in the long run. Selecting a waterproof bathroom surface should be one of the topmost priorities while remodeling the bathroom floors.
There is no denying that water will be spill out from the sink, or haze from the shower would cause the bathroom to covered with fog. So, while selecting the right floor type for the bathroom you should always choose the best which not only looks attractive but which is also durable for your bathroom space.
As the main goal of selecting the bathroom floor is to choose a waterproof design, we have listed some of the major types of bathroom floors that you can install and make your bathroom look more classy.
Porcelain & Ceramic bathroom tiles
Porcelain and the ceramic bathroom tiles are one of the classic bathroom flooring designs which are not only inexpensive but they can provide you with a classy look that of the expensive materials just like natural stone or hardwood. They come in various sizes, designs, textures, and beautiful colors. Although installing this material doesn't have a big drawback but the only thing which is a con is that it can cause slipperiness.
Natural stones
Natural stones when installed can provide a luxurious look to the bathroom. Soft stones like limestone or travertine require to be resealed after two-three years, whereas marble and granite can last much longer. They are somewhat expensive but if you can have enough money to install it then it will totally change the outlook of your bathroom. They are slippery in texture but you can install them by choosing a stone that is polished or textured with sandblasting.
Vinyl
It has marked its importance in the last decade due to its high resistance to hold onto water. it is a solid material that comes in different varieties like Plank Vinyl, Sheet Vinyl, and the Tile Vinyl. Out of these, Sheet Vinyl has the best power to hold water whereas, tile Vinyl has the least grip to hold water. The major benefit of installing Vinyl flooring is that they come in various designs, patterns, and colors.
Concrete tiles
Concrete flooring provides the bathroom with a unique and modern look and the major benefit of this material is that it is fully impermeable to water damage. It not only provides a modern look but it also eco-friendly and inexpensive. They can last for a long duration as they are highly water-resistant. The con of installing this type of material is that if it's finished with a soft surface then it is prone to be slippery when waterfalls on it. This is why it is always better to choose the concrete tile if it is textured. For best designs, you can also rely on Singh Kitchen's bathroom remodeling experts, who suggest the best and cost-effective bathroom tile designs.
Cork Flooring
In case you are looking for a material for sustainability, then we would suggest you go with Cork flooring for your bathroom. It is waterproof as well as relaxed for your foot. They come in a variety of designs and come in natural textures. They also provide a warm touch with a variety of colors. It is not very difficult to install this flooring. Although it can become moist in order to protect it, you can easily reseal it after some years.
Engineered Wood
Wood is mostly not preferred by many people, but engineered wood has been quite an in demand for a long time now. It has a base of plywood which resists the water from damaging the wood entirely. It is somewhere similar to that of real wood and looks best for the bathroom. The con of installing the engineered wood in the bathroom is that they are prone to get damaged after some years.
Conclusion:
While remodeling the home, we all take care of many things, right from the design to the color of the material to be installed. However, we forget to research about the materials which are actually good for our home. Hope these above-mentioned points help you to choose the right material for your bathroom.