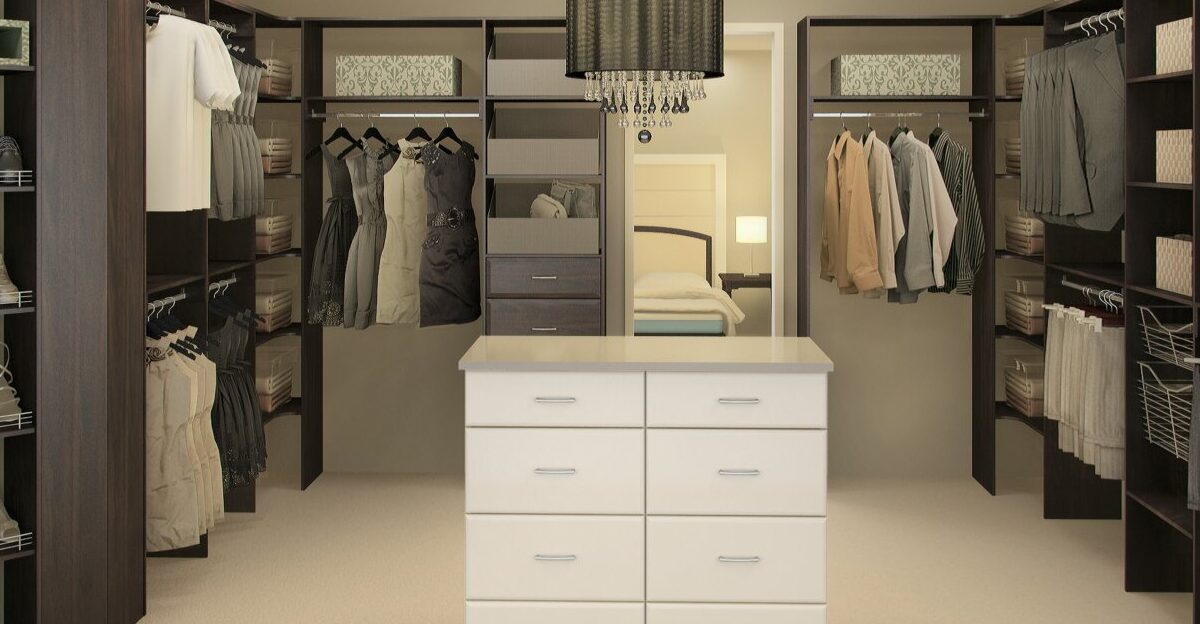 Some voguish ways to organize wardrobe cabinets
Everyone wants a clean and organized closet because it streamlines our morning routine, and gives us a reason to augment our wardrobe or at least renovate and optimize to be able to store more and more. If you too want to optimize your cabinet, do try some of the below-given closet organization and storage tips that too in the newest style and low budget. We have come up with some voguish ways to organize custom cabinets in Mississauga. The ideas represented by us will leave you astounded and you would never have to worry about organizing your closet again. We will help our readers get acquainted with the never-failing tips for decluttering their closets.
Let's get started

1. Hide Item Behind Glass Doors
If your cabinets have glass doors, you can think of lining them with a cute curtain. This will hide all your messed-up clothes or accessories. Moreover, covering your cabinet glass doors with a nice floral fabric from the inside will level up your interior. Have your curtain tie-up with little velcro if you want to spare yourself from sewing. Hiding items under curtained doors will add visual interest and texture to your room. Also, curtains are inexpensive and also easy to install.
2. Add Organizers under Drawers
There are always some messed-up drawers in our closets that are pretty much required to be decluttered. Whether in your kitchen, bathroom, or bedroom, drawers are a spot that can quickly become messy. With the latest availability of various organizer styles, it's become pretty easy to keep our closets and the drawers organized.
3. Get Shelf Dividers
Shelf Divider is another next-generation space optimization method. It makes you put things together but categorically. For example, you can place all your T-shirts in one division and jeans in another. This way you can make the most of your space and it won't be difficult for you to find what you need. Moreover, there come handy shoe organizers for your sneakers, for your bulky sweaters that cannot be stretched out on a hanger. The shelf dividers keep your stuff stacked and intact. The sides let you stack piles higher without fear that your clothes will just topple over and end up on the ground.
4. Purge Seasonally
Doing a thorough clean-out is necessary during every seasonal change. Because it helps you decide what fits in and what does not, what's gone out of the trend and what's in. And this way you can do some charity, giveaways to homeless shelters, or sell them to local thrift shops. Remember before you kick start reorganizing clothes, do it by "type" categorically. You can hang long items high enough so they won't drag on the floor. For some style points, line the back wall with some cool fabric or wallpaper scraps.
5. Utilize all existing space
Don't worry, when you have Singh Kitchen with you. We are the best closet organizers in Mississauga. Your closet organization is in good hands if you choose us for better optimization of your space. Here's what we can do:
We can use your wall space to install bookshelves, modular shelves, hangers to hang your clothes.
We can make the most of awkward spaces with our custom shelves. If you have a wall that juts out or have an awkward corner where you can't fix the furniture, you can consider custom shelves to get installed.
6. Bring in Modular Shelving
Modular shelving is designed to be highly flexible. It can be assembled and configured in a variety of ways. Also, modular shelving is easy to break down, transport, and reassemble. It has become a next-generation model to create extra space for things that don't fit inside the closet. You can keep non-essential items out of your sight and display the essential ones out in the open to utilize some space as decor.
7. Invest in hanging Organizer
You can think of investing in a hanging organizer for placing hats, scarves, purses, or any other accessory of your choice. This will make your closet double duty. From heavy jackets to sock accessories, everything can be piled up categorically.