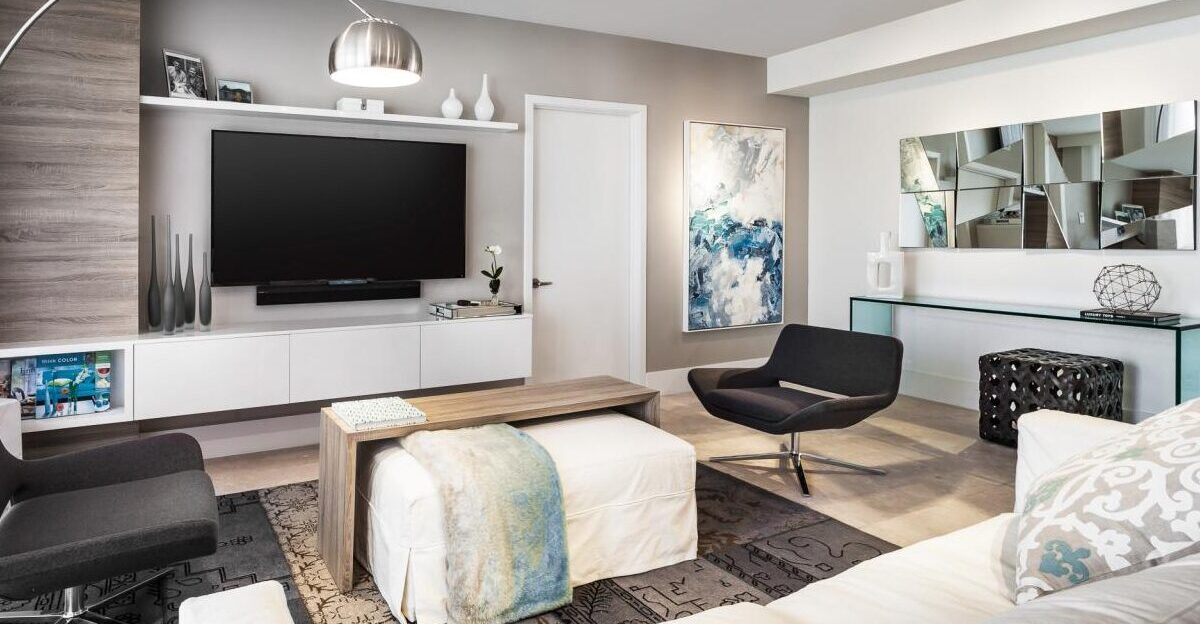 How to integrate ultra-modern interior designing into your entertainment room
You are much of a modern design lover if you like clean straight lines with contrasting accents or textural elements. The texture is the new jargon in the interior designing world. It entails the precise art of blending and creating visual plots. Smart technology and innovative ideas have transformed our entertainment spaces, made them more relaxed and mood evoking.
If you are in search of inspiration to integrate your interior design into the entertainment space, you are at the right place. We have made the whole concept simpler for you. We can also assist you with a free estimate for setting up your custom entertainment center in Oakville.
Various Colors can evolve your Mood
Texturing gets more pleasing when we give it a good contrast. It will add visual weight to your entertainment zone. Making the most of contrasting with your interior decor will magnify the ambiance as well as your mood. Interior designing is all about exploring. It is also about the little differences our eyes are fond of catching. Do not keep your decor out of the equation.
Keeping it organized and space-optimized
Cluttered entertainment space is a disappointment as it takes away the basic purpose of its existence. It has to be well organized and optimized. The entertainment room is there for a purpose. It is confined to showcasing the beauty of the space. We can not fill it with artifacts and other objects. This place has to be well-optimized for family and friends' entertainment.
#Tip: Keep the decor minimum and the center space empty.
Stuffing up the fancy objects in your entertainment space can make it look sophisticated. Avoid stuffing and welcome negative space. Keeping it spacious will uplift the ambiance and light your energy. We can count on a little bit of negative space as it is the new classy.
Emphasize on flooring
The floor is the best interaction with your interior space. The floor is the foundation of our interior and it can impact our entertainment space hugely. The floor surface must integrate with your desired entertainment room concept. Here, with the floor designs, you can avail numerous choices. They could be:
Wooden Flooring

Marble Flooring

Tile Flooring

Granite Flooring

Bamboo Flooring
You can get connected for smart floor renovation in Oakville. We can guide you over floor patterns, colors, and textural effects.
Invest in Comfortable furniture
It is obvious that comfortable sitting will add fun to the drama along with the warmth. Comfortable and relaxed sitting also aids in optimum productivity especially for those working in the entertainment industry. You can opt for interior commodities such as sofa, armchair, or recliners. However, unplanned buying can impact interior decoration. Furniture comes last to the interior section. Do thinking before making a buy.
Seating Arrangement
It is advisable to think about the sitting arrangement for your family or friend gatherings. In spite of feeding the area with a large number of sofas or furniture, you can place a comfy rug or ottoman poufs or bean bags as additional seating. Figure out an arrangement plan in which you can make the most of your space.
To integrate ultra-modern interior designing into your entertainment room
Know what you want. You can get connected with us if you need any guidance.

Help yourself set your budget.

You can also get it customized as per your requirements.

Next comes the color theme selection. We are the interior crafters par excellence. We are always open to our true guidance.

Entertainment space optimization. From unfaulty wiring to optimizing storage systems to wall decors, please leave it to us.