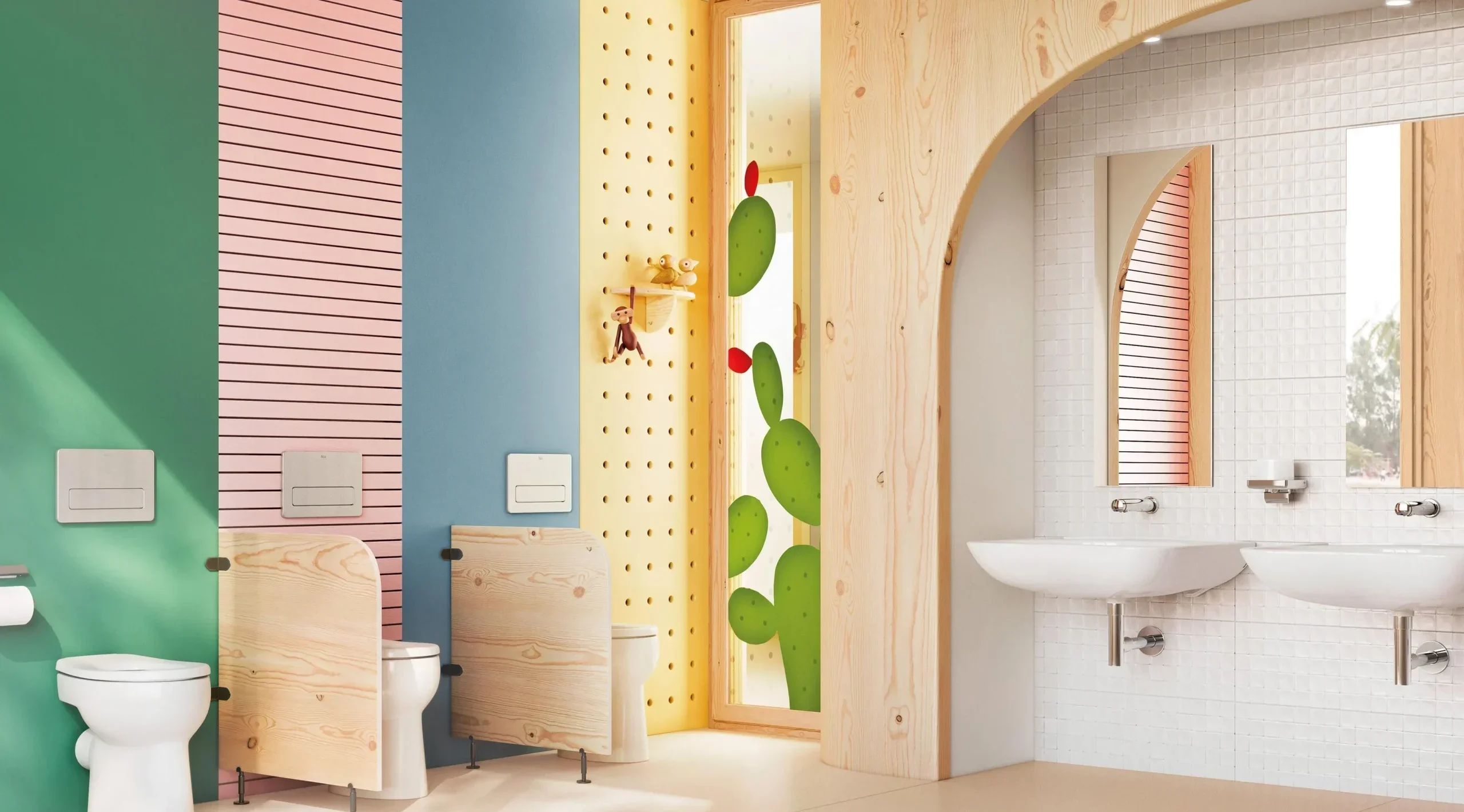 How to Design a Kid-Friendly Bathroom?
We are never indecisive when we have limited options but rather when we have an abundance of them. And as a parent, choosing the right design for your kids' bathroom is no easy feat. Where the little ones usually want to push the boundaries with creative color schemes, the adults incline towards something more functional and safe-which they hopefully will not have to refurnish within a year because their kids don't like the decor anymore.
It's funny how the smaller spaces in a home can cause so much design anxiety. Whether it's the bath of the study, a Jack-and-Jill bath, a powder room or just a regular ol' secondary bath, it's not uncommon to see clients at a loss for what to do. This is where we come in with our blog, hoping our suggestions help you strike the perfect balance and avoid a conflict of opinion-which- from our experience, parents usually lose.
1. Let loose and get creative with the wallpaper:
It's better to start off by picking a beautiful wallpaper for your space. It sets the central theme for the bathroom and helps you envision your ideas better.
Makeup your mind! Are you comfortable changing the decor a few years down the road, or are you looking for a more ageless approach?
A wallpaper depicting a trending theme or cartoon characters stimulates the imagination and inspires their creative little minds. However, with such wallpapers, there's always a possibility that they outgrow their initial choice of character.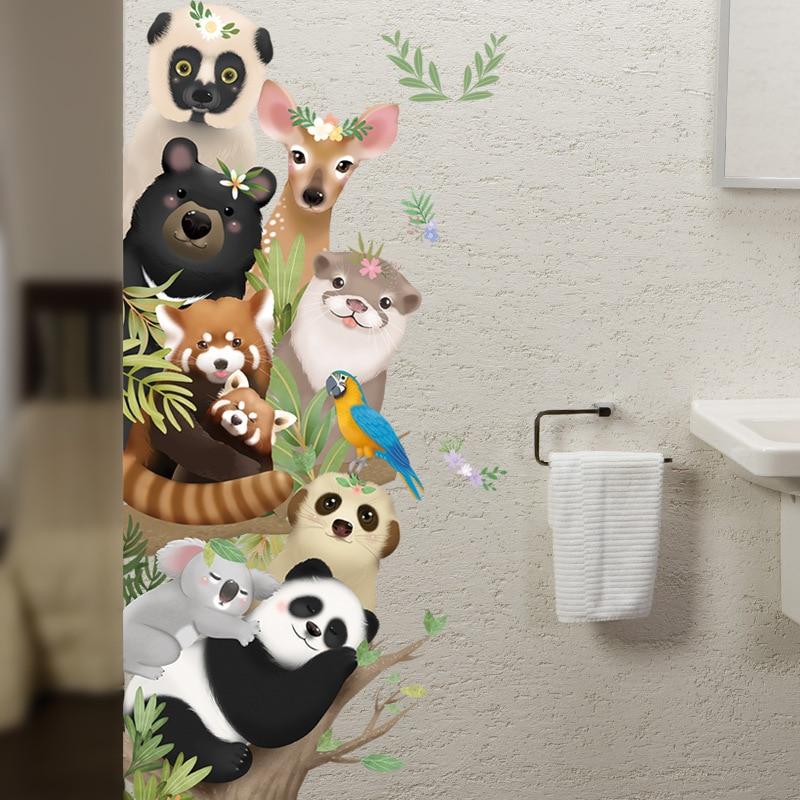 If you are looking to create a space designed to be playful and fun but which can visually sustain for a long time, then you may consider a more subtle or minimalistic look for the walls. This is especially the right choice if it's going to be a shared space for a boy and a girl. And believe me, sustainable doesn't necessarily mean boring. You can pick vibrant, bold, fun colors and patterns that will effortlessly pep up your space.
2. Tiles:
The following stars of the show have to be the tiles. They have the power to bring together the entire look of the bathroom. Make sure the tiles that you pick compliment your wallpapers. You can also take the creative freedom to mix and match them. One of the best ways to create a gorgeous cohesive design while using a mix-and-match technique is by keeping the material consistent. This way, you can pair different shapes and patterns while maintaining a clear aesthetic. No matter the design you pick, safety is paramount. Ensure the floor tiles are non-slip and provide good resistance even when wet.
3. Bathroom Vanity:
You simply cannot create a beautiful space and hope to maintain it without making ample room for storing the crazy amount of stuff that the kids need to function. If you want to reduce clutter such as toothbrushes, toothpaste, bath toys and other hygiene products that have no business stealing the spotlight from your bathroom aesthetics; then you need to install spacious yet elegant Bathroom Vanities Brampton that are not only functional but also give the bathroom a whimsical touch.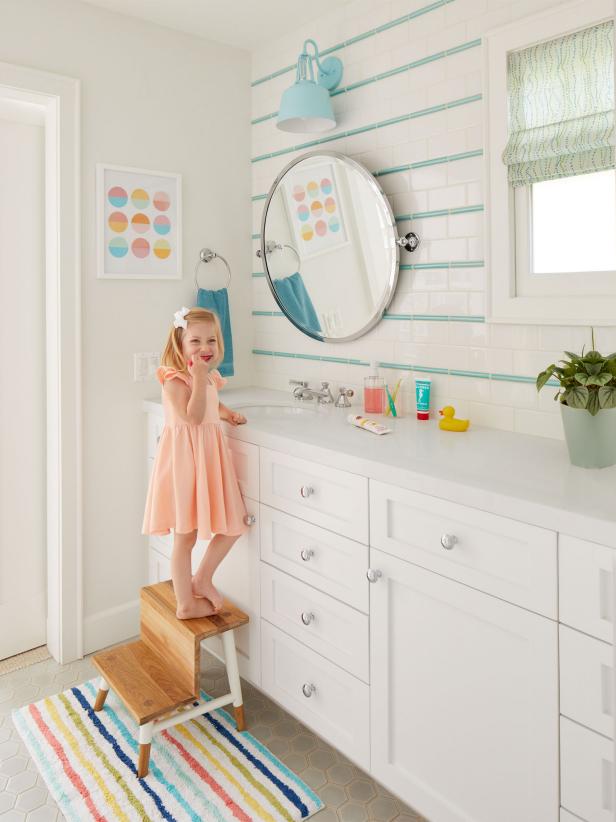 4. Double Down on those sink fittings:
Here's our secret to avoiding conflict (more controversial than world politics) and chaos first thing in the morning- Install double sinks. That should allow them to brush their teeth simultaneously and put a halt to the early morning or late night squabbles over issues like personal space.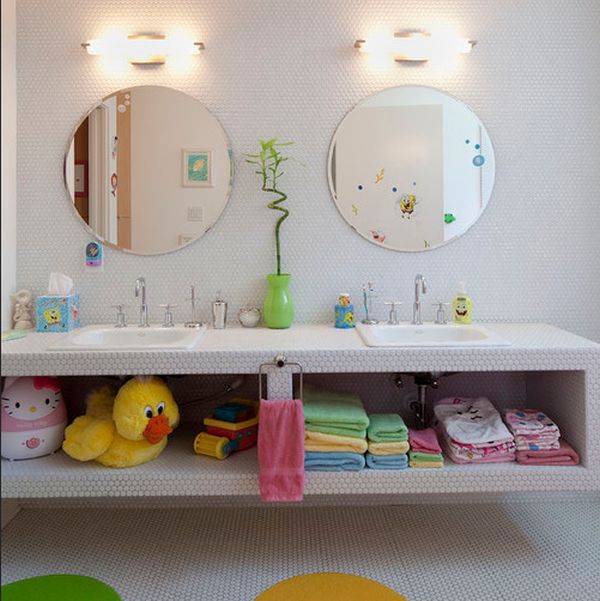 5. Use lights to your benefit:
You may think that the sole purpose of lights is to brighten up the space, but if used correctly, they can add much more depth to your room. Find out what works best with your wall papers-warm light or cool white. Choose carefully! You can use spotlights to highlight your kid's favourite corners or components. You may also use LED lights with adhesive backing for your mirrors to spread ambient lighting in the bathroom space.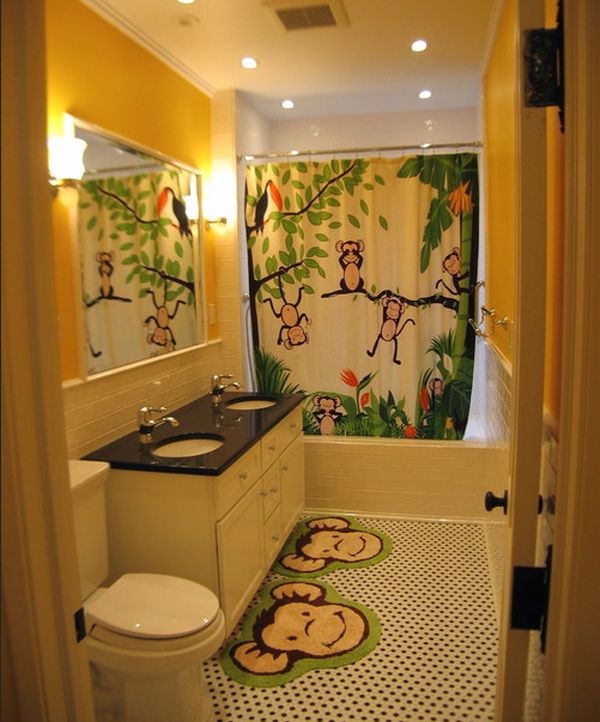 6. Bathroom Fittings:
Sometimes parents tend to go overboard when picking various elements for the kiddie bathrooms. They invest in miniature, child-sized fittings that they soon outgrow. Understandably an adult-sized toilet would also be inconvenient for the child to use. So it's better to install standard-sized bathroom fittings that they can comfortably reach with a step stool.
7. Get a Beautiful Shower Curtain:
This is a fun one. You can get more liberal with shower curtains as they aren't as expensive to replace as revamping the entire bathroom space. Allow your kids to choose the one they like the best (yes! even the tacky ones). Colorful shower curtains are the easiest way to pique their interest.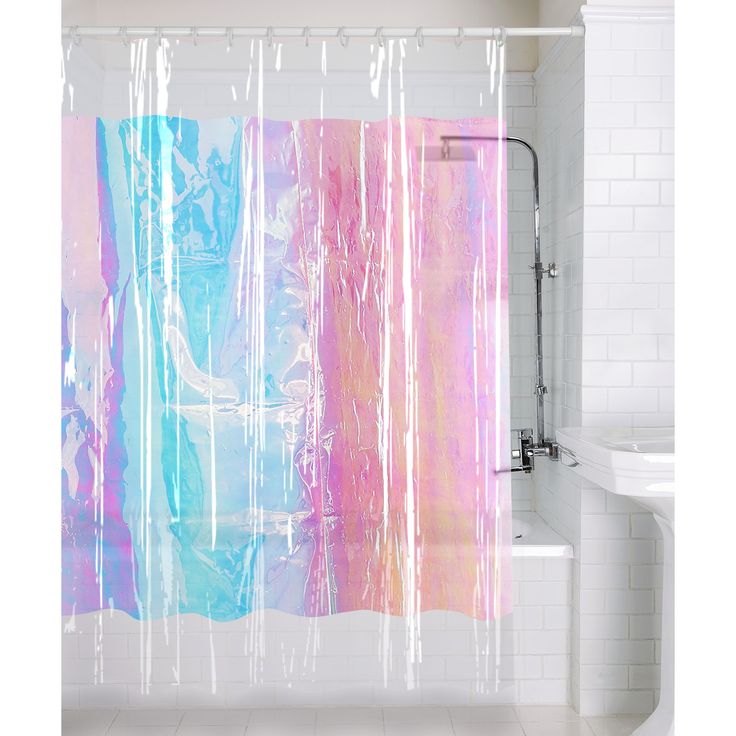 8. Install Child-Friendly Grab Bars:
Bathrooms are more prone to accidents, and kids always seem to be in a rush to do everything. Grab bars are a great way to prevent slip and fall accidents. You can install them with interesting colors or playful attachments to encourage your kids to use them. You can also install cloth hanging bars at a lower height to help teach your kids how to keep their clothes organized. This makes them more independent and less messy.
9. Add maintenance to your calculation:
When putting a bathroom together, you must consider and make peace with the fact that eventually, kids will make a mess, and you WILL have to clean it! Do not install wallpapers or tiles with patterns that are hard to maintain. Avoid elaborate decors that result in space congestion and creating hard to reach nooks and corners that leverage bacteria growth.
10. Add personality to the bathroom space:
Want to add personality and vibrance to the bathroom space without forcing yourself to commit to expensive fixtures? Incorporate temporary peel-and-stick wall murals, bath mats, towels, and bath toys in creative, funky shades. You can also add family pictures to the walls and bring those together with a meaningful quotation.
There are countless tricks to spruce up these kiddie bathroom spaces. Planning and preparation go a long way in creating a design whimsical and serene enough that any kid (or adult) would love. You may head over to the Singh Kitchen website to discuss your vision with the team and allow them to assist you in picking the features and design that work the best for you.